1
How to use our extension
Google Meet Attendance
Welcome to Google Meet Attendance
---
Thank you for installing and using our extension
---
Features:
Simple way to take an attendance on Google Meet
Tutorial:
Install the Extension
After installing the extension, click on the icon on the toolbar.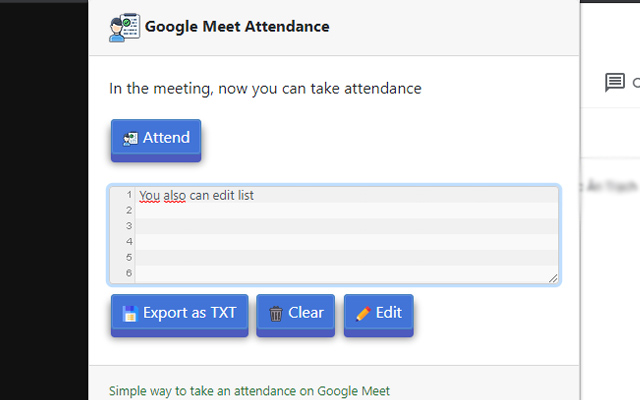 ---
Attendance Taking for Google Meet
This extension is intended for users who need a simple way to take attendance during a Google Meet.
This extension adds a button to the top right bar (next to chat & participant list) to help remember who joined a meeting in Google Meet. Attendance taking allows you to remember who joined an online meeting and see who is not here.
The extension will record the name of the participant as well as the time when attendance was taken.
Begin using this extension again to take attendance for your meetings inside Google Meet.
Once you have finished your Google Meet call, you can download the name of the attendees in a text file format.